We are now well into the new school year here at Anadarko High School. Parent/Teacher conferences is just around the corner. Parent/Teacher conference is scheduled for September 21st from 3:30pm-9:00. Please make time to come to the High School during the allotted time 3:30-9:00pm and visit with your child's teachers
We have a lot of exciting things going on. All of our fall sports athletes (football, Softball and cross-country) have been working hard through out the summer and now it's their time for them to shine. So if you get a chance to watch a game we would love for you to come and support our student athletes. We have started a new activity this year which is ESports. ESports is a competition between different school in computer gaming we are excited for this new opportunity to our students, Mr. Farr is the sponsor for ESports.
If you ever have any questions or concerns please feel free to give me a call or come by the office so we can visit..
Danny Harris
Principal
Anadarko High School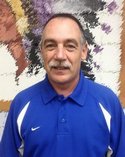 Principal's BIO
I received my Bachelor's degree in Education from Northeastern State University. I completed my Master's degree from Central State University.

This is my 37th year in education. I spent my first 10 years at Chandler High School coaching wrestling and teaching Science. I spent seven year in Chandler as the 9-10 grade principal. I then moved to Haskell, Oklahoma to become the Elementary Principal at Mary White Elementary and the Districts Athletic Director for 9 years. This is my 11th year to be a part of the Anadarko Public school system. I spent my first 1 1/4 years as the assistant principal at the high school, then I was the principal at East Grade for 4 3/4 years. Then I came back to the high school and I am starting my 5th year as the High School Principal.

I have three daughters, one son-in-law and one grandson.